These are two of the easiest cookie recipes ever.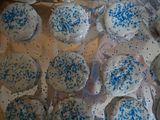 My grandmother made these every year growing up. I'm not sure they would be classified as a cookie but that's what I call them.
Easy Cookies
You take two Ritz crackers and spread peanut butter in the middle to form a sandwich then dip in melted chocolate (I use white chocolate bark). Sprinkle with any festive sprinkles or colored sugar. I love these and they are so easy.
Lemon Snowflakes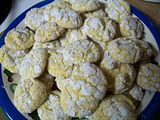 1 package (18.25 oz.) lemon cake mix with pudding (I usually get Moist Supreme)
2 1/4 cups whipped topping
1 egg
Confectioners' sugar
Directions:


In a large bowl, combine the cake mix, whipped topping and egg until well blended. Batter will be very sticky.


Drop by teaspoonfuls into confectioner's sugar; roll lightly to coat. Place on ungreased baking sheets.


Bake at 350 degrees for 10-12 minutes or until lightly browned and tops are cracked. Remove to wire racks to cool.


Substitutions: You can use chocolate cake mix to make Chocolate Crackles.