We've used Saxon Math for a while now...it's what works in this house. I'll supplement this year with Life of Fred: Fractions and Decimals and Percents. Just because my daughter and son think it's really funny.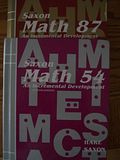 Language Arts:
Our Language Arts is a hodge-podge of materials. We have grammar, spelling and handwriting everyday. Most ones I've picked up at thrift stores throughout the year. We really enjoy A Reason for Handwriting.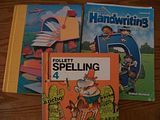 Assignment Books:
Every week the kids get an assignment sheet with a list of all their "independent" work. Most of this can be done on their own but some of it needs guidance. It cuts out the "I'm done...what do I do next?" They pick the order in which they complete their daily assignments.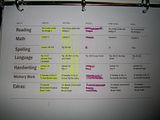 Poetry:
I'm incorporating a poetry study this year. So 4 times a week, we do various poetry activities. I pick one poet to focus on per month--this month it's Robert Frost. Below are the poems, they picked to memorize with illustrations. I found that idea at
SmallWorldatHome
. Some other ideas include: poetry lapbook, writing favorite poems in journal, poetry collages (also from Smallworld) and internet activities.
Social Studies:
I'm using a lot of different resources this year for S.S. We've divided our week into 4 subjects of S.S.-geography, TN history, government and Map Skills for Today workbook. I'm also continuing my unit weeks this year-- where we take a break from all our regular work for an intensive study. We'll be doing units on Feudal Japan, Renaissance, etc. I find all these units at
Lesson Pathways
--I absolutely love this site.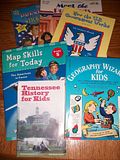 Reading:
Lots of readers, supplemented with various websites I've found for reading comprehension work.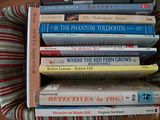 Science:
This is the first time I've bought anything for science in a while. So for the first semester, we are using
God's Design for Science
. I let the kids pick their top 3 choices for what we'd study. Two of their three were the same so...The World of Animals and Properties of Ecosystems, it is. The second semester, as much as I hate to say it, will be spent making sure we cover the subject areas my daughter will tested on in April. I want her to be prepared, so we'll be reviewing the 7-8 various Science standards for the State of Tennessee. I don't mind too much about doing that because I like covering a wide variety of subjects and it will only further her scientific knowledge. (That's looking on the bright side!)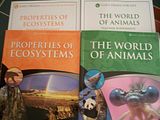 Music and Art:
This year I've decided to add music and art appreciation to our list of subjects. These things are really important to us and our heritage. My children come from a family of artists and musicians, some world famous. I'm a music teacher by profession, as well. So why was this part always getting left out? I've decided to change that this year. We are memorizing a hymn a month--we sing it over lunch each day. We have a monthly artist and composer to study as well. I've always enjoyed components of Charlotte Mason so we are doing picture studies for the first time.
AmblesideOnline
is a great resource. 4 times a week we'll have art and music- 2 times for each. I basically pick an artist or composer and then find various activities in our books or lessons online that I think will fit well into our study.
Bible:
Last year, we had a curriculum for Bible but this year I just didn't see anything I was all together thrilled about. So, we are getting back to the basics...reading or listening to Scripture passages about men and women of the Bible. Then talking about the Scripture. I found a great website:
Bible Gateway
that has different reading plans available as well as audio selections. The kids also have a Scripture passage to memorize every couple of weeks depending upon the length of passage.
French:
This is my husband's area this year. He is taking us through a French curriculum called Mission Monde. I'm learning right along with the kids. I took two years of Spanish in high school, so this is new territory for me.