I changed our unit week plan just a bit this week. We did a hodge podge of activities. Everyday the kids read, did Life of Fred or Hands on Equations, experimented with a Mind Blowing Science kit, played games, started the
Write your own novel project
, watched educational videos, and did tons of art projects. They had a great week and it was just the kind of week we needed, since almost everyone was sick.
I found a great new blog with several art projects I wanted to try-
A Faithful Attempt
We did these
Oil Pastel Resists-
the top two, in order show what happens with too little chalk and too much chalk. The bottom one Tera did again and it turned out with a somewhat better contrast. Daniel's is the really dark one- he said he liked it because he felt it was a night time picture. :)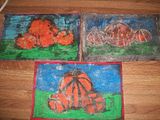 Black Cat Collage
I absolutely love the way these turned out.

Daniel and Tera's ad for their favorite book-one of the first exercises in the National Novel Writing Month project. These were in sketchbooks I found at Ollie's. A friend and I were complaining about not being able to find notebooks with college rule at the bottom and a blank space at the top. I found these for 99 cents. I will definitely go back and stock up.

They worked all week on a Chemistry Science kit called Mind Blowing Science, their grandma got them last year for Christmas. They learned about acids/bases, made jiggly crystals and all kinds of fun stuff. The best part....they did it all by themselves.

We learned how to wrap presents...to enter in the fair next year. Tera made a greeting card as well, but Daniel is still working out his idea.
We finished this project on Friday...my favorite of the week. This is an 8th grade project, so I was a little nervous about how they would turn out. They were fabulous!
This is what happens when Mommy is sick and siblings are entertaining the little one.
Although, I was sick this week, we got a lot accomplished. Most of it, I just facilitated. A perk of having older students. Life and school can still carry on, if Mommy is sick. I'm starting to feel better, although I did end up taking a nap most of this week.