Check out more cool field trips at Field Trip Fridays over at It's a Boy's Life!
We went out to a local Nativefest today. There was drumming and native singing.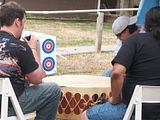 We got a demo on finger weaving. Now I'm definitely getting hooked on weaving.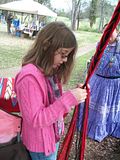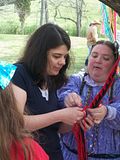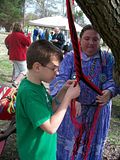 There were all kinds of native interpreters.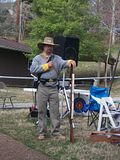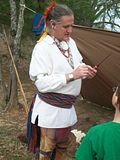 Daniel got bear grease smeared on his finger by the above interpreter which the Cherokee would use to apply face paint, as a sunscreen and insect repellent. We also learned in Cherokee society, women were the ones who owned the land and home. It was ahead of it's time for equal rights.
There was Native dancing, which Tera and her friend were able to join toward the end.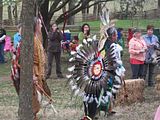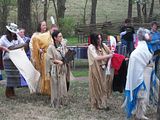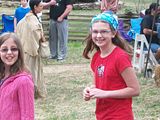 We did a couple potato dance. Basically, you balance the potato between your foreheads and keep moving, but don't drop the potato. Needless, to say we did not win.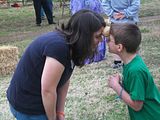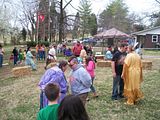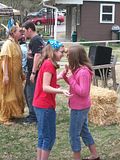 Then, I was thrown to the natives by my wonderful husband for a Native 2-step dance. One of the interpreters tried to volunteer us both for the dance, but JP was not about to get up in front of that many people. So the Rodney Dangerfield of the Cherokee nation, who was emceeing came and grabbed my hand to lead the dance. I was just a bit nervous, and JP thought it was the best part of the day. I have to admit it was fun, though! But JP's hand is still the only one I want to hold. The dance was surprisingly similar the the English country dances we've seen in various Austen movies.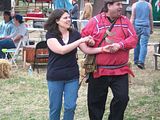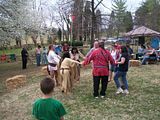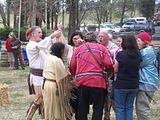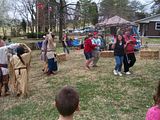 Face paintings, water buffalo tooth necklaces, stick ball demonstrations...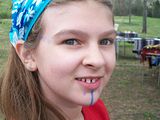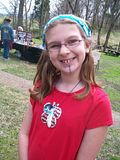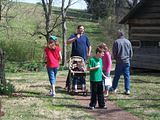 One cute little boy really enjoying his day!