We had a mini-vacation this last weekend. Thursday through Sunday, we vacationed in Pigeon Forge less than an hour from our home. We vacationed there for years before we actually moved here, and now we never go over there. So it was nice to go back. We rented a cabin that was near Dollywood that included access to an indoor pool.
I wanted to blog about our mishaps first. This trip was truly eventful. The first day I was stung by a bee as I walked into the Aquarium. That doesn't sound like much, but I am deathly allergic to bee stings. I wanted to run out of the aquarium and to the emergency room but I didn't want to freak my kids out or ruin their time. So I waited it out to see if I would have a reaction. Thankfully, I did not- dime size whelp- that was it. That doesn't mean I didn't freak out a little on the inside. I truly believe God protected me.
Then Saturday, on our way to the Titanic museum, the window on our van slid out and crashed on the ground shattering into a million little pieces. We stood there in disbelief as we watched it fall and crash. JP was holding Michael so he wasn't able to catch it before it dropped. Now we are in search of a replacement window.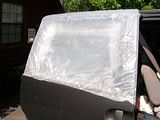 These seem very major but we didn't let it ruin our fun too much. We had a blast and I'll write about that later this week!