We had planned on visiting my family July 4th weekend, but when I heard my nephew was going to be baptized, we headed home a few weeks early. My brother wasn't sure we could make it so he didn't tell me. My mom spilled the beans and boy, am I glad she did. I never would have wanted to miss that in a million years. I called my brother when we crossed the Alabama line and to say he was surprised is an understatement. I'm so thankful to my wonderful husband who was so willing to change our plans and to drive the entire way there and back. He's pretty awesome. My mom and brother fed us so well, I hope my clothes will still fit. :)
Here we are bright and early!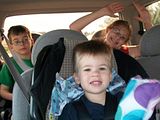 My nephew was playing in the All-Stars on Saturday night. Oh my, I had forgotten how hot Alabama gets in the summer. It's like sitting with a hot fan blowing on you. At 7 o'clock at night. How fun though, to see my little Nate play ball.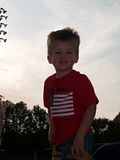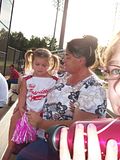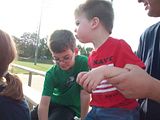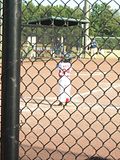 Uncle John loves all his kids!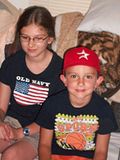 After the game, we went swimming (10 PM our time) and yes, it felt incredible. The water was so cool, Michael's little teeth were chattering. I love the picture of him with my brother...he must be telling Uncle John a good story.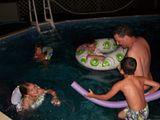 My Mom and PawPaw Fred before church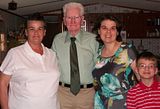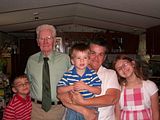 Pawpaw and his boys!

The highlight of the weekend. Nate accepted Jesus as his Savior earlier this year and was baptized on Sunday. My grandmother (his great-grandmother) is home bound but my brother went and picked her up in the middle of the service to bring her to church. Everyone crowded around her when it was over, she looked so happy. Nate had all his aunts, uncles, cousins and all his living grandparents and great-grandparents there to witness his testimony of faith. He was holding his nose the entire time -ready. I overheard him tell Daniel beforehand "I don't even have to wear my goggles today" in his prominant Southern drawl. Then, after it was over he turned and faced where we were all sitting looking for us. It was the cutest thing!