We joke with the kids about that song..."Wherever we go...that's where the party's at!" being our family's theme song. Today that was definitely the case.
Parking lot birthday party...

We brought (well, our friend made and brought them) cupcakes for Daniel to share with his friends before our fieldtrip. It was so sweet that his friends made him presents and cards. We have been so blessed with great friends.
Waiting...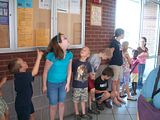 (I love how they are all are looking in different directions)

Again, we had a great tour guide. The kids got the biggest kick out of packages falling inside the drop boxes. We got great coloring books and a collectible stamp about Owney the Postal Dog. Read more about him -
Owney the Postal Dog
.