Tera with her 4 Credible Ribbons from the Tennessee Valley Fair.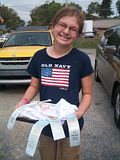 Daniel with his 2 Blue Ribbons (and $10) for his origami turtle and T-shirt.
An extra treat!

We are so proud of their effort with their entries this year. They came home planning for next year. JP and I just might enter some categories ourselves. What great fun!