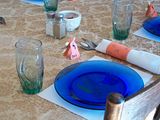 We had a great Thanksgiving weekend. Tera set our Thanksgiving table, complete with turkey placemats, napkin rings and turkey place cards. Our meal was delicious. JP did a great job with the turkey---picture perfect. We did a Thankful Turkey throughout the last few weeks---here are some of the things we are thankful for this year.
Pepper
Hot tea-Hot soup-Vaporizers and Warm fireplaces
Shoes
You
My Refuge
MumMum and Dada
well mannered kids
Homeschool
Free country
A mom and a dad who loves us!
Abundant Goodness
Mercy and forgiveness
Friends
Swim lessons and rocket balloons
Your love endures forever
crochet
Puppy
I know Him!
Food
Faithfulness
that I'm alive!
Rock of my Salvation
Cars
Righteousness
Dirty dishes and dirty laundry (we are well fed and well clothed)
God, the Great Physician
This house
C.S. Lewis
Narnia
Days when we are not sick
Soldiers that fight for our freedom
Swim lessons
God's Beautiful Creation- mountains and clouds reflecting in a clear lake.
These are just a few things we thought of to thank our Heavenly Father for giving us. We know we have so many more blessings each day that we fail to recognize. May our lives become more of a testimony to the goodness of our Lord and Savior.