Today was the last day in Ancient Greece---YEAH! I really have enjoyed the study but I'm equally glad for a 4 day weekend to recuperate and relax. We had some friends over today to share our last day of study. We started the day with an activity to calculate pi. The kids gathered cans from the cupboard. Measured the circumference (around the can) then measured the diameter (distance across the top). We divided the two numbers to find the ratio or pi. We used a calculator to divide. This activity is not accurate to the point of finding exactly pi, but we were always in the ballpark.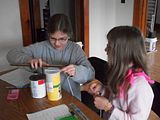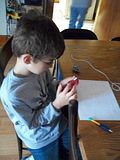 We had a Mini-Metric Olympics with paper plate discus, straw javelin, cotton ball shoot put, big foot (measured whose foot was greatest), right hand marble grab, and left hand sponge squeeze. The kids estimated how many cm or grams before each event. Then each took and turn with others helping with the measurements. We subtracted the difference between the estimate and the actual. We also recognized the highest measurement as well as the closest guess between their estimate and the actual performance.



Greek Feast (fill your own pitas (veggies, cheese, yogurt and olives), fruit (apples/grapes), and everyone's favorite Greek Honey Cake)

Then we carved in wax (actually vegetable shortening)...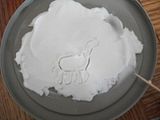 more Batiks...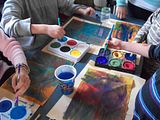 and ending with Paper Name Mosaics.