Can you see the smiley face on my pancake? My griddle's mood apparently was contagious.


Red, white and blue smore's
Cole slaw--I'm a hater of cole slaw, just ask my mom. There is a really gross story involving me, a pushy elementary school teacher on cafeteria duty and cole slaw. I have come to like cole slaw but only the sweet kind. This recipe is especially good. I did reduced the sugar by almost half and did not notice. I will say it does tend to be rather liquidy...we just use a slotted spoon or drain off the extra liquid.
Chocolate Eclair Dessert
This stuff is so yummy!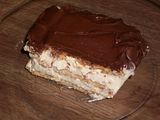 Fresh picked green beans from the garden...This is our second batch of green beans from the 6 plants we have in our garden. They have produced very well so far compared to last year. We are starting to get bell peppers as well. Our zucchini died and so we replanted butternut and more zucchini in it's place. Our yellow crooknecks are still producing. Tomatoes are coming along, but we've had no red ones yet. I replanted our round garden with thyme, cucumbers, cherry tomatoes and some lettuces that hopefully like the heat. I'm hoping to actually do a fall garden this year that will go in sometime the middle of August.