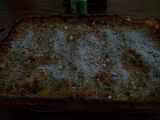 1 Dish Chicken Parmesan
Batter:
Cooking spray
1-1/2 cups all purpose flour
2 envelopes yeast (4 1/2 tsp.)
2 tsps. sugar
1/2 tsp. salt
3/4 cup water (very warm)
3 Tbsp. olive oil
Toppings:
3 cups fully cooked chicken chopped

(original recipe calls for breaded but I used grilled)
2 cups spaghetti sauce
1 cup cheese
1 tsp. Italian herb seasoning
Mix batter together in 8.5 x 11 inch pan

(original calls for 8 x 8 but this is definitely too small).

Let rest 5 to 10 minutes.
Top batter evenly with chichen and pour sauce over top. Sprinkle with cheese and herbs.
Bake by placing in a COLD oven; set temp at 350 degrees. Bake for 30 minutes or until done.
(I cooked for more like 45 mins.)
4 out of 5 of our taste testers enjoyed this recipe. The 5th thought there was too much sauce...they have a problem with too much sauce in any recipe.