Last week we got together with our co-op to do Christmas crafts. Each mom brought the supplies for a craft, ornament or gift for the kids to make. We divided the kids into groups. Then, they worked through each station before rotating to the next station.
Station 1: M & M Chocolate Chip Cookie Mix in a Jar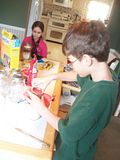 Michael really enjoyed this craft. I don't think it had anything to do with the M & M's at all. ;)
Station 2: Cinnamon Gingerbread Ornaments
Station 3: Timecapsule Ornaments
I didn't read the instructions closely and got clear glass balls instead of plastic ones. So we just rolled the photos and used twizzers to move it around once inside the ornament. I wouldn't suggest to deviate from the instructions. It made it a whole lot harder for the kids.
Moms goofing off...
And the cutest little spectator!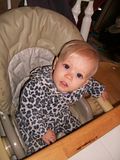 We do this every year the last co-op before December. It really is one of the kids' favorite days of the year. I wish I got more pictures of the completed crafts, but it's quite a hectic day.