Our artist this month is Monet. I found
this project that resembles
Monet's Bridge Over a Pond of Water Lilies.
First using masking tape, we laid out a bridge on our watercolor paper.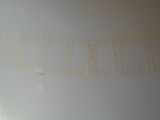 Then using our fingers...
and paintbrushes to produce...
our masterpieces!
Disclaimer: Michael did not do this all by himself...he really needed help to finish the entire page and to stay focused.
:)