I found this idea to make a fabric Christmas tree ornament with buttons and a ribbon for decoration. We made ours out of felt and stuffed with fiber fill.

Michael wanted a picture taken of his snowman, too!


We did some things today on Hanukkah. Like making tuna latkes and potato latkes and....
doughnuts.
I was looking for an easy recipe and found one using canned biscuits. I was surprised at how easy they were and how really good they tasted. We filled the doughnut holes with raspberry preserves and covered them all with powdered sugar. I never knew you could do this. Everyone thought they were awesome, but I'm feeling quite greasy at the end of this day. Tomorrow we'll focus on crafts and games instead of fried food.
We listened to some stories about Hanukkah found at this great site. It has all kinds of cool resources.
We're reading The Willows at Christmas and doing our Jesse Tree reading everyday.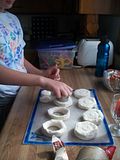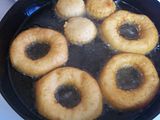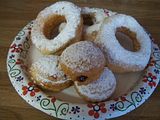 Nothing left but the eating!