Last week, we did a big space unit. I borrowed a friend's Apologia Astronomy book and we headed for outer space. We worked our way through the 8 planets. Daniel is still sad about Pluto, though.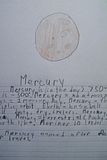 Made craters with marbles and rocks (into cornmeal) and made a salt dough model of Mercury.
Played a space trivia game...
Finding out way the sky is blue

Another experiment on the orbit of Earth
More notebooking and a Venn diagram comparing/contrasting Jupiter and Saturn
Did you know Saturn is the only planet that would float?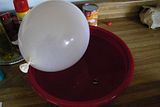 Stormy Jupiter experiment
Mix 1 cup of glue with 4 cups of water.
Drop in food color.
Blow with straws.
Making a storm vortex (tea leaves and a straw)


Jupiter Mosaic


Space mobile- I won this kit a long time ago and have been saving it for a space unit.

After school was over one day, I had to take a phone call. When I was done I was surprised to find the kids had used their legos to create a space probe.


Friday we had friends over for some moon and constellation fun...more on that tomorrow!