Thursday night is Theme Night during the summer. I have to say these are kinda stress creating at times...not the actually doing but the planning and thinking of good ideas.
Here are some things we did last summer, before I gave up:
Origami Fest-
not really sure if I followed through with this one but some great ideas.
Tonight was our first theme night of the summer...we had a play date planned and that was going to be my excuse, ahem, I mean my theme night. Well, something came up and it fell through. So, I needed to come up with our theme night without a trip to the store. I had
pinned a banana pop bar
, so I decided to use up the very ripe bananas on the counter. I cut them into bite sized pieces, stuck a toothpick in and put both plates in the freezer. Then I scoured the cabinet for toppings (graham cracker crumbs, cheerios, dried raisins and cranberries, various sprinkles and sugars, peanut butter and melted chocolate). Thus,
POP Night
was born! After the kids got over brown bananas, they had a blast making combinations.
To round out this very nutritious dinner, the kids had
POPCORN
!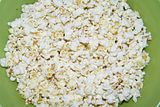 Then, watched Mary
POP
pins.
We finished with
POP
sicles!
I have to say, I was feeling a little guilty about this menu until I realized the kids had fruit, healthy protein and whole grain. That sounds tons better, doesn't it?