When we go on vacation or take a staycation, we have a few criteria. We are looking for a cabin usually, inexpensively but that has things for our kids to do- (pool table, foosball tables or air hockey and most importantly, an indoor pool). We've had good experiences with Fireside Chalets, especially with the indoor pool. We basically had the place to ourselves every time we went. And we went a lot. There were only 2 bedrooms so we invested in a twin size air mattress and Tera had her own out of the way place to sleep. It worked great!
Besides the aquarium on our first day, the only other attraction we did was Dixie Stampede. The food was awesome---hot on the plate! For me, it was a once in a lifetime kinda thing. I'm not a big show, big crowd person. I will say it was good for that type of entertainment. Fast moving, exciting, lots of variety. If you are local to the area, you can sign your kids up for the Food City Kids Club and they receive a free ticket every year for their birthday. It's good until the following June. So, we really saved a lot getting the kids in free. We payed the extra for the souvenir boot cups for the pre-show. $4 a kid --filled with a drink (awesome orange slushy in our case). That really helped with the wait for dinner. Skip the flags, no matter how much your 3 year old may want one...there is really no time to wave it during the show and it's basically just a souvenir. Oh, and I was thinking the kids' plates would have smaller portions--NOPE! They got the same thing we did and basically everyone brought home their entire cornish hen and we had it for lunch the next day. Overall, a fun time, just not an every year thing. Also, they take your picture ahead of time...first package $30, 2nd one $25- I was prepared to pass on that one. I will say, they were great photos and I tried hard not to think about them getting shredded.
Before we left, I tried to find a couple of new toys for Michael. We don't usually go for fad toys, but when I saw a set of Cars Squinkies for $6 at Wal-mart, I thought that might buy me some peace for the week. He played with those things the entire time. Good buy, even if we had to keep finding them over and over again.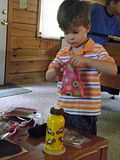 Pool, pool and more pool
By the end of the week, the kids' swimming had improved so much.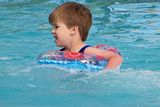 Goofy again!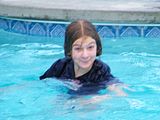 There was a HOT and Fresh sign---and we just couldn't resist. The coupon on the back of our grocery store receipt was a great confirmation, we should indulge. I cannot tell you how much I love Hot glazed Krispy Kreme donuts...they are comfort food. I won't say that two people I know, once polished off a whole dozen before reaching their home 10 minutes from the store. Ahem...that was long before kids of course. Needless to say, our kids liked them just as much and my husband reminded me that maybe we should be thankful there aren't any Hot and Fresh signs near our house anymore. Sad to say, I think he's right.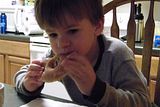 Good food, good times, good memories!