This was our last week of school.
(although our summer schedule looks a little like school, but we certainly don't dare call it that)
Tera and Daniel redeemed their last Book It! reading certificate. They amazed me with how many pages they can read in a month...little book worms.
Michael enjoyed stringing some beads like the big kids and playing his "new to him" guitar Daddy bought. (He looks pretty serious, because guitar playing is serious business)
Warm/cool landscapes- inspired by a Deep Space Sparkle lesson
Versions of Van Gogh's Starry Night
I really like the way these turned out, even if the pictures don't quite do it justice.
Shaving Cream art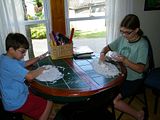 Fair projects- some started, some finished
Chemical science
Last day of school trip to Froyoz
Now, to get myself together and start planning summer stuff, co-op classes and next year. Hopefully, lots of relaxing, too.