We've been working on Science Fair projects around here for a while. Well, this week were our presentations. Some of our friends were doing projects as well, so we all had a mini-fair. I wish I would have thought to have ribbons for the kids, but it escaped my mind until the last minute. Maybe next time. Yesterday, we spent a whole bunch of time getting our boards ready. Cutting, pasting, cutting, pasting, arranging. It takes longer than you think. But I was really pleased with the hard work Tera and Daniel put into their presentation boards. I tried to be pretty hands-off and only help by instruction and supervising. I stayed true to that and was very proud of myself. I really didn't want to take over their boards just so that they would be "perfect". The actual experiments did not turn out as well as they had hoped, but it was great experience to follow it through from beginning and end. Tera did a project on Chromatography, while Daniel did Solar Energy.
All of our kids brought their boards and projects to our house today to present. Each student presented their work in a short little speech about their project. Basically stating their question, hypothesis and conclusion.
These projects were great! All the kids did a wonderful job. We had a lot of variety of projects as well. It was awesome to see what others have learned and share with one another. I learned a lot!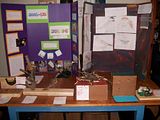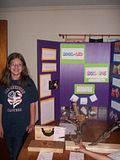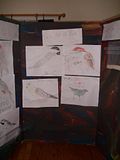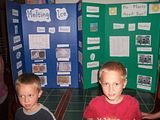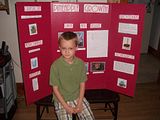 Presenting...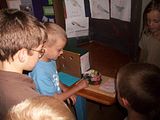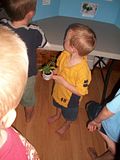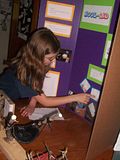 We also played group games today...one of my favorite days. I love playing games. It's nice to actually try out new games before you buy them yourself. I can't wait to get some of those Professor Noggins' card games.