We've been on an art kick lately...and I really like that. Our new artist for the month is Rembrandt. So we started by reading some information about him. We learned he drew/painted over 100 portraits of himself.
The assignment:
Look in a mirror and draw your face with a blank expression.
Results: Daniel was sad because I told him to stop erasing, can you tell by the sad eyes?
Angry faces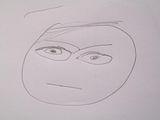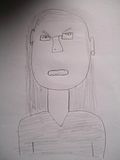 3-D Hand art
Trace hand with pencil then start making straight lines across your paper. When you come to part of your hand, make an arc. Then, continue your straight line where you left off on the other side of the hand. Voila...3-D hands!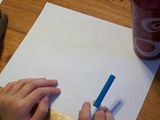 More line art with friends


and Compass Art Drawings