Water table-complete
The first day was just playing in the water...then it's been a water battle everyday.
Squirting, chasing and soaking wet kids.
Daniel and Tera have really been into cooking lately...so I've tried on Sundays to let them bake something for church. We've had chocolate cake and this week- Blondie Brownies, compliments of Daniel.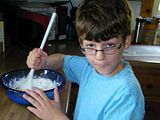 Lots of things are growing around here.
Lots of things are changing...gradually.