We did a painting on a surface project from this book:
Art for Fun Projects
that was comparable to the Egyptian cave drawings found. I really like this book because it pairs a technique from a specific artist with a project. The students then try the technique in their own work of art.

We also designed our own sarcophagus. It seems like a kinda morbid activity. Tera gave hers a smiley face.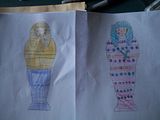 That was our crazy day!