Last week we studied Connecticutt and Delaware, so I made crab cakes. Tera who really dislikes "fish cakes" really liked these. Me, not so much. I must be getting old because I'm finding it hard to stomach most fried foods, even their smell turns my stomach. The kids said they reminded them of hushpuppies.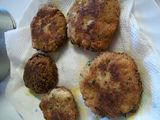 We have been incorporating our timeline here and there. The kids did "A Timeline of Me" which we pasted in their timeline books.
Last Wednesday, I had an infected tooth extracted. Not too much physical pain, but very uncomfortable. According to my husband, I've complained a bit more than I realized. He's a good sport to remind me of it later. I'm just now getting back to some kind of normal. I took one or two daily naps for most of last week. So we have been doing our normal work with very little Science. We'll pick that up next week, since I planned to spend 2 weeks on Magnets and Electricity anyway.


This week we've been studying Mass., Maryland and Maine. We had this Blueberry Cobbler.
We made a collage of Massachusetts' Economy.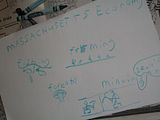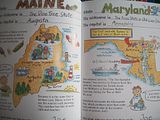 We got up close and personal with a huge map of Maine, finding the capital, lighthouses and distilleries (my kids did not know what it was until I told them).


Our passports are filling up very nicely!