For Tera's special birthday dinner, she wanted fried chicken, rice and rolls. Can you tell she's my bread girl? But hey, it's her birthday. She also requested this frosted brownie pizza. One of Tera's little friend got flowers on her birthday a couple of months ago and Tera mentioned how she thought that was nice. Hint, Hint. So Daddy got her flowers when he went out to pick up chicken. (No, I am definitely not Pioneer Woman, I do not fry my own chicken!)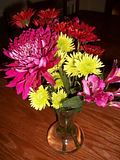 The table with "cake" and presents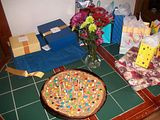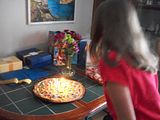 Tera made a list of the things she wanted this year: easel paper, Sci-ology (a friend introduced her to this game recently), nail polish, watercolor paper, Little Women movie (1949), LED flashlight, paper, watercolors...nothing real extravagant but what she likes and wanted. It was nice she was so specific then we could share her list with the grandparents.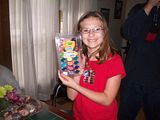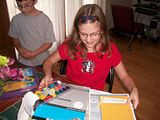 We have had a tradition since the kids were babies that they each receive one joint present or similar themed present on the other's birthday (Tera and Daniel's birthdays are only 1 month apart). For Daniel's birthday, they both got art supplies. This year we decided to get them "movie packs". Snacks and movies. These are things I do not usually buy-chips, microwave popcorn and raisinets. Daniel got Benji movie pack and Tera got The Muppets Take Manhatten in addition to Little Women. Michael got sippy cup/bowl (Tera and Daniel both have a set) and Goldfish.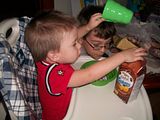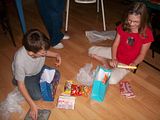 Tera said this was the best birthday ever. She says that every year.