A great article on sibling friendships:
How to Cultivate Proverbs 13 Friendships
How to Practice Hospitality
and welcoming friends into your home: Some great tips on hospitality.
Our counter overfloweth!
My mom gave Tera a new cookbook and she's been trying it out...blueberry muffins, peanut butter oatmeal muffins, fruit salsa and cinnamon sugar tortilla chips. The peach blueberry cobbler, well, that was me. It's nice to have a child old enough and interested in baking. Her brothers aren't complaining at all.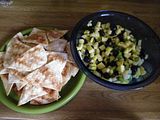 We went to the library sale today and I got a box of things for under $10. I met a friend there who had never been to one of the sales before. It was hard for us to get out of there. Usually, I find random things but today I actually found things we will be studying...2 Latin dictionaries, Why Things Work Machine videos, an old version of Latina Christiana (for $2), and a couple of readers I will use as soon as school starts. It was fun but now I have to find a place to put all my new books.
What I was hoping was allergies from all my maniac cleaning is a summer cold, I think...a functioning cold, but it's still kinda stinky. That's all I can think of for this random post. :)