We've been getting up so early and getting outside before the wasps, bees, yellow jackets and other stinging insects are active. Most mornings have been cool and the mosquitoes have not even bothered us. The past few days have been stifling when it comes to heat...I'm definitely ready for fall.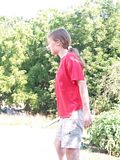 Would you look at that cone-head on that cardinal?
Although, we do have to water almost every day the garden is coming along nicely. As you can see from the bottom picture we are started to harvest tomatoes and zucchini. We're praying the flea beetles and squash bugs don't kill our plants...or the heat.