4.5 hours doesn't sound long for a trip...but it feels like a long trip at the end of the day.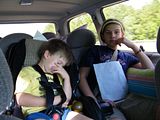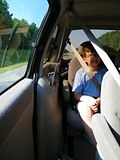 When we lived in Nashville, we used to frequent this restaurant. I cannot tell you how many times...let's just say, we knew our favorite waitress by name. So when we go home, we always pass it, but never at a meal time. This time we just happened to be looking for somewhere to eat supper and stopped. Daniel thought the people before us were just messy with the peanuts...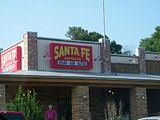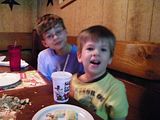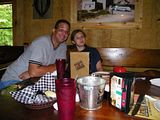 Cousins...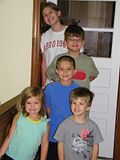 The bride and groom....so happy!
Decorations and bouquets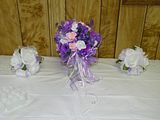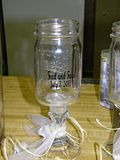 The wedding cake and a beautiful fruit display...
My brother and sister in law went all out for the food...but I failed to get a picture of everything. There was also a caramel groom's cake (made by her grandmother) that was to die for!
My grandmother, aunts and cousin
Lots of food and fun!
I had hoped to get a ton of family pictures on my camera before the wedding but it was just too hectic. I'll just have to wait for the photographers pictures to come back.
We left early Sunday morning and came on home...it was a great weekend and I'm so thankful that now I have an official step-dad! I couldn't ask for a better one!