I feel like we just cleaned up and de-cluttered, but it's a new year. So, here we go again. We made it a goal as a family to get rid of 1000 + plus things. Not little trash- giveaway things mostly. Tera was really gung ho, so we started in her room on New Year's Eve. I have two different kind of kids...one who leaves dirty clothes and toys laying out and another that stuffs them away into drawers. I'll let you guess which is which.

JP and I are officially starting on Jan. 10th to get rid of things. I've started a bit already. Since the rest of the house is still in limbo because of repairs, we needed the extra time. The goal is to have everything out of the house by January 31st.
Tera's room after we had just started the de-cluttering and reorganizing.
Before: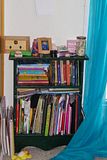 We went and bought a few organization things and she gave her primary colored things to Michael. We went through and cleaned out her closet as well.
The boys' room before:
After:
We have transitioned Michael into Daniel's room very slowly. With the new toy bins from Tera's room, they each have their own spaces. I also went through and organized their closet, as well. We bought a small mirror, train rug and a peg hook rack that are not pictured. It really is "our" room now, instead of "my" room.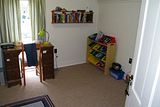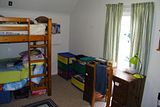 The beginnings of a big giveaway pile...