Advent is such a special time for us. It's a time when we direct our attention to the reason why we celebrate Christmas. We are anticipating the first coming of our Lord and Savior as a baby. We also anticipate His second coming to this earth some day. I love all our traditions and every year we do the same things...well, almost. I'm always adding things. I just can't help myself.
We have Jesse tree devotions and ornaments to hang.
What is Jesse Tree
? Jesse Tree is an advent custom that traces the family tree of Jesus throughout the Old Testament through Christ's coming. It tells the salvation story and is based on the scripture Isaiah 11:1 which says: "Then a shoot will spring from the stem of Jesse, and a branch from his roots will bear fruit." There are tons of ways to do this custom- homemade ornaments or already made kits. I've seen
felt ornaments
,
paper ornaments
and our own unique ones.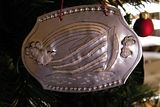 Every night the kids take turn opening the doors on our advent calendar. I was so wise last year and put everything back in the doors at the end of Advent. So, it was all ready to go. Each night, there are 3 colored strips and a symbol representing an aspect of Christmas. (I found our advent box at a thrift store when my kids were small...Target sells
different ones
every year.) The strips have the symbol title, scripture reference and activity listed. There are so many advent calendars out there to purchase or to make on your own. A search on pinterest will yield more possibilities than you'd ever dream.
Day 1: The Advent Wreath
Scripture: Luke 2:19
Activity: Make a paper chain
Truth in the Tinsel is an ebook advent devotional that has a daily craft or ornament to make. It's definitely geared toward the younger child, but my older ones enjoyed the activity as well. I also purchased the
daily ornament templates
for Tera and Daniel if they choose not to do the daily craft. They will look similar to this ornament:
We had so much fun tonight making paper chains and candle ornaments.
I can hear your thoughts..."It's the first day and I'm already behind!"
It doesn't matter!!!! Start tomorrow. Do as little or as much as you like.
I've added these things over years of celebrating advent. Make it fun, relaxed, buy something already made, do it once a week...the most important thing is to just do it! This year teach your kids about the real Christmas story.
For unto us a Child is born,
Unto us a Son is given;
And the government will be upon His shoulder.
And His name will be called
Wonderful, Counselor, Mighty God,
Everlasting Father, Prince of Peace.
Isaiah 9:6