Okay...life is getting busy in the final preparations for Christmas. I am snuggling, laughing and watching Christmas movies instead of blogging. So, I'm finishing up with this last post before Christmas.
Truth in the Tinsel:
The Wise Men and a beaded Cross
Advent Calendar (Dec. 22)
Symbol: X-Mas/Chi-Ro symbol
Scripture: Luke 1: 30-33
Activity: Go see lights
(Michael totally cracked me up in his get-up)
Advent Calendar (23rd)
Symbol: Straw
Scripture: Isaiah 40:3-5
Activity: Walk around the neighborhood to see lights
(It was raining, so we had to put this one on hold)
Advent Calendar (24th)
Symbol: Manger (from our nativity set)
Scripture: Luke 2:7, 11-12
Activity: Put out reindeer food
Jesse Tree (22nd): Joseph
Matthew 1:18-25
Jesse Tree (23rd): Mary
Luke 1:26-38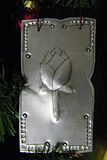 Jesse Tree (24th) : John the Baptist
Luke 3:1-20

The last advent candle has been lit, we are ready to celebrate the birth of our KING!